With prom quickly approaching, the time to find the perfect hairstyle is closing in. By now you've likely found the dress and the date (or your trusty group of girls you'll be dancing with), so your hair and makeup situation should be the icing on the cake. Whether you've got a one-shouldered gown or an above-the-knee flirty number, it's hard to go wrong with a braided hairstyle. From chignons to fishtails to ponytails, braids can make any hairstyle prettier and more interesting.
To help you find the perfect braided hairstyle for prom, we've rounded up 15 of our favorite styles. Take a look at the braid ideas above and tell us which you'll be donning for prom in the comments below!
More Prom Hairstyles From Beauty High:
25 Prom Hairstyles For Short Hair
101 Prom Hairstyles You Need to See
25 Prom Hairstyle How-To's For Long Hair
1 of 15
A ponytail can take on an entirely new look with two mini braids styled right on top.
Image via Become Gorgeous
Photo: Become Gorgeous/Become Gorgeous
Update your usual pulled back braids look with these two mini fishtail braids, finishing the hairstyle off by wrapping hair around the elastic holding the braids together.
Image via Bloom
Photo: Bloom/Bloom
This sideways braid is finished off with a classic bun donut, making for a braid and bun combo that's hard to resist.
Image via Hair Romance
Photo: Hair Romance/Hair Romance
Keep things simple with long beach waves and a small braid from each side of your head coming together in the back to create an ethereal look.
Image via Long Hairstyle How To
Photo: Long Hairstyle How To/Long Hairstyle How To
This braided updo is intricate and lovely, pulling together French braids from the top and bottom sections of hair and pinning up in the back for a regal look.
Image via What Anna Loves
Photo: What Anna Loves/What Anna Loves
If you've got ombre colored hair, this style is the one for you. Keep your hair loose and wavy, braiding from each side about two inches back from your hairline, keeping face-framing pieces out of the braid.
Image via Obaz
Photo: Obaz/Obaz
With this half-fishtail, half-bun updo, your hair will look stunning all night long.
Image via Cardigans and Cookies
Photo: Cardigans and Cookies/Cardigans and Cookies
A waterfall braid like this one looks especially good on blonde highlighted hair, accentuating the highlights and making your hair look multidimensional.
Image via Meilishuo
Photo: Meilishuo/Meilishuo
Instead of a hairstyle with a single braid, take things up a few notches and create a triple braided look.
Image via Minkette
Photo: Minkette/Minkette
Combining French braids and a fishtail braid has never looked so good.
Image via Hairstyle Design
Photo: Hairstyle Design/Hairstyle Design
With a French twist, a braid, a bun and some face-framing pieces, this hairstyle seems complicated, but it's totally simple and looks gorgeous.
Image via Long Hairstyle How To
Photo: Long Hairstyle How To/Long Hairstyle How To
Top off this braided hairstyle with a traditional ponytail, then wrap pieces around the elastic to give it a clean finish.
Image via The Small Things
Photo: The Small Things Blog/The Small Things Blog
Surprise everyone with an upside-down braided bun - no one will see it coming!
Image via Devo Far Mile Ossa
Photo: Devo Far Mile Ossa/Devo Far Mile Ossa
Get your bangs out of your face for a night of dancing with this braided crown hairstyle.
Image via Pretty Pretty Things
Photo: Pretty Pretty Things/Pretty Pretty Things
Create three separate braids and pin hair up just above the nape of your neck for this feminine and unexpected hairstyle.
Image via Makeup.com braided
Photo: Makeup.com/Makeup.com
Next slideshow starts in 10s

Источник: http://stylecaster.com/beauty/15-braided-prom-hairstyles-pinterest/

15 Easy Hair Braid Tutorials That Are Perfect For Prom m Country house decor
15 Braided Prom Hairstyles You Have to See StyleCaster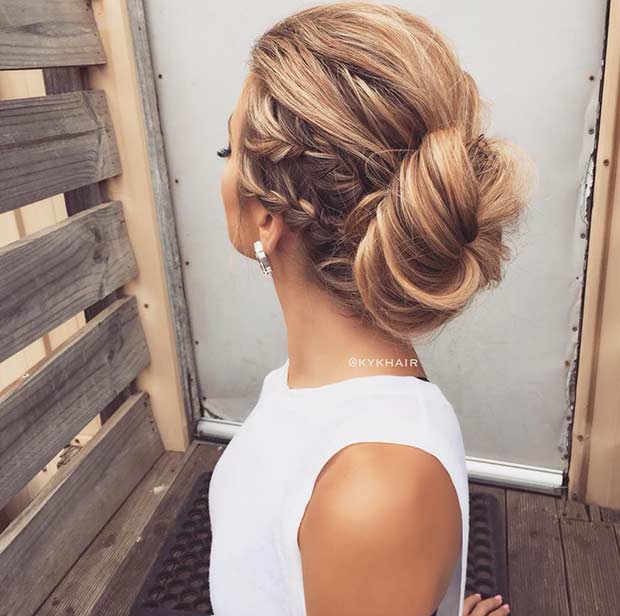 40 Most Delightful Prom Updos for Long Hair in 2017
10 best images about Looks On Campus on Pinterest Colleges
12 Best Interior Design Apps for Your Home in 2017 - Home Design
20 Hottest Short Hairstyles for Older
30 Party Hairstyles To Give You
50 Trendy And Easy Asian Girls Hairstyles To Try
Best kitchen faucet 2017 Top rated kitchen faucet reviews
Braless Bella Thorne dons pink jeans at 2017 Grammy party Daily
Hair Color Hair Beauty ACCESSORIES Hot Topic
History of Nike Air Jordan Shoes
Hollywood Red Heads: Nautral or Dyed Hair m
Lea Michele Marie Claire November 2015 - theFashionSpot