Viscose Rayon


Rayon viscose
Introduction
Of all the fibers, rayon is probably the most perplexing to consumers. It can be found in cotton-like end uses, as well as sumptuous velvets and taffetas. It may function successfully in absorbent hygiene and incontinence pads and equally well providing strength in tire cords. What is this fiber that has so many faces?
Rayon was the first manufactured fiber. The term rayon was officially adopted by the textile industry. Unlike most man-made fibers, rayon is not synthetic. It is made from wood pulp, a naturally-occurring, cellulose-based raw material. As a result, rayon's properties are more similar to those of natural cellulosic fibers, such as cotton or linen, than those of thermoplastic, petroleum-based synthetic fibers such as nylon or polyester.
Although rayon is made from wood pulp, a relatively inexpensive and renewable resource, processing requires high water and energy use, and has contributed to air and water pollution. Modernization of manufacturing plants and processes combined with availability of raw materials has increased rayon's competitiveness in the market.
History
Rayon is the generic term for fiber (and the resulting yarn and fabric) manufactured of regenerated cellulose by any one of six processes. Its importance as a fiber lies in its versatility, and in the fact that it was the first viable manufactured fiber.
As far back as 1664, English naturalist Robert Hooke theorized that artificial filaments might be spun from a substance similar to that which silkworms secrete to make silk. This was often tried by scientists in the ensuing years who sought an "artificial silk", yet no one was to succeed until in 1855 the Frenchman did so, George Audemars. By dipping a needle into a viscous solution of mulberry bark pulp and gummy rubber, he was able to make a thread. While interesting from a scientific standpoint, this process was hardly viable economically - it was very slow, and required a great deal of skill and precision.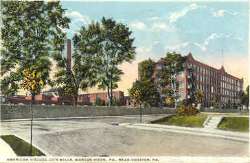 The first commercial synthetic fiber was produced by Hilaire de Bernigaud, Count of Chardonnay (1839-1924) after 29 years of research, was patented in 1884, and manufactured by him in 1889. This cellulose-based fabric known as Chardonnay silk was pretty but very flammable, it was removed from the market.
Soon after, the English chemist Charles Frederick Cross and his collaborators Edward John Bevan and Clayton Beadle discovered the viscose process in 1891 (1892?).
Courtaulds Fibers produced the first commercial viscose rayon in 1905; the first in the United States was in 1910 by the American Viscose Company. Initially rayon was called "Artificial Silk", and many other names.
In 1924 (1926?), a committee formed by the U.S. Department of Commerce and various commercial associations decided upon the name "rayon". It was called "rayon" for one of two reasons: either because of its brightness and similarities in structure with cotton (sun = ray, -on = cotton). Or because the naming committee couldn't find a name from the thousands entered in a contest they sponsored, and who hoped to shed a "ray of light" on the subject (from rayon, French for ray).
Properties
Viscose Rayon has a silk-like aesthetic with superb drape and feel and retains its rich brilliant colors. Its cellulosic base contributes many properties similar to those of cotton or other natural cellulosic fibers. Rayon is moisture absorbent (more so than cotton), breathable, comfortable to wear, and easily dyed in vivid colors. It does not build up static electricity, nor will it pill unless the fabric is made from short, low-twist yarns.
Rayon is comfortable, soft to the skin, and has moderate dry strength and abrasion resistance. Like other cellulosic fibers, it is not resilient, which means that it will wrinkle. Rayon withstands ironing temperatures slightly less than those of cotton. It may be attacked by silverfish and termites, but generally resists insect damage. It will mildew, but that generally is not a problem.
One of rayon's strengths is its versatility and ability to blend easily with many fibers—sometimes to reduce cost, other times for luster, softness, or absorbency and resulting comfort.
Rayon has moderate resistance to acids and alkalis and generally the fiber itself is not damaged by bleaches; however, dyes used in the fabric may experience color change. As a cellulosic fiber, rayon will burn, but flame retardant finishes can be applied.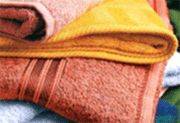 Fiber Properties overview
General Characteristics:
Rayon as a cloth is soft and comfortable. It drapes well, which is one of the reasons it is so desirable as an apparel fabric. Most characteristics are variable depending on processing, additives and finishing treatments, not to mention fabric construction.

Absorbency:
Rayon is the most absorbent of all cellulose fibers, even more so than cotton and linen. Because of this, rayon absorbs perspiration and allows it to evaporate away from the skin, making it an excellent summer fabric. Its high absorbency applies equally to dyes, allowing beautiful, deep, rich colours.

Strength:
It loses a great deal of strength when wet. Because of this, it stretches and shrinks more than cotton.

Abrasion resistance:
Poor due to inelasticity of the fibers. It is easily damaged by scraping and will pill on the surface of the cloth.

Flammability:
Because of its excessive flammability, it inspired the Flammable Fabrics Act. The FFA was enacted by the U.S. Department of Commerce in 1953 in response to public concern over a number of serious burn accidents involving brushed rayon high pile sweaters (referred to as "torch sweaters") and children's cowboy chaps which could easily catch fire and flash burn.

Static:
No static build-up.

Chemical reactions:
Because it is a cellulose fiber, it is damaged by even relatively weak acids.
Parameters
Comparative Rating
Cotton
Viscose
Polyester
Comfort

Moisture Regain

Good

Very good

Poor

Thermal protection

Good

Very good

Poor

Air permeability

Very good

Good

Poor

Softness

Good

Very good

Poor

Smoothness

Poor

Good

Very good

Static dissipation

Good

Very good

Poor

Aesthetic

Drape

Good

Very good

Poor

Luster

Poor

Very good

Very good

Crease recovery

Poor

Poor

Very good

Uniformity

Poor

Very good

Good

Utility Performance

Antipilling

Good

Very good

Poor

Wash & wear

Good

Poor

Very good
Applications

Yarns:
embroidery thread, chenille, cord, novelty yarns


Fabrics:
crepe, gabardine, suiting, lace, outerwear fabrics and linings for fur coats & outerwear.


Apparel:
blouses, dresses, saris, jackets, lingerie, linings, millinery (hats), slacks, sport shirts, sportswear, suits, ties, work clothes.


Domestic Textiles:
bedspreads, blankets, curtains, draperies, sheets, slip covers, tablecloths, upholstery.


Industrial Textiles:
high-tenacity rayon is used as reinforcement to mechanical rubber goods (tires, conveyor belts, hoses), applications within the aerospace, agricultural and textile industries, braided cord, tapes


Various:
sausage casing, cellophane


Grades

flat yarn

high tenacity

fibers

tow

tops

spun yarns

Jet spun viscose yarn Ne 30/1, low pilling

Revised Siro spun viscose yarn Ne 30/1, low pilling

Types of Rayon

There are four major types or modifications of rayon. Understanding each type should help clarify differences in product performance.

"Regular rayon"

has the largest market share. It is typically found in apparel and home furnishings and identified on labels by the term "viscose." The distinguishing property of regular rayon is its

low wet strength

. As a result, it becomes unstable and may stretch or shrink when wet. Dry cleaning is usually recommended to preserve the appearance of fabrics made from this fiber. If machine washed, untreated regular rayon can shrink as much as 10 percent.


High Wet Modulus (HWM)

rayon is a modified viscose that has virtually the same properties as regular rayon, plus high wet strength. HWM rayon can be machine washed and tumble dried and perform much like cotton in similar end uses. HWM rayon can also be mercerized, like cotton, for increased strength and luster. The terms frequently used to describe HWM rayon in apparel include "polynosic" rayon or the trade name MODALTM.


High Tenacity Rayon

is a modification of "regular rayon" to provide exceptional strength (two times that of HWM rayon). High tenacity rayon is primarily found in tire cord and industrial end uses. It may be finished, chemically coated, or rubberized for protection from moisture and potential loss of dimensional stability and strength during use.


Cupramonium Rayon

is another type with properties similar to those of viscose or regular rayon. The manufacturing process differs somewhat from that of regular rayon and is less environmentally friendly. As a result, cupramonium rayon is no longer produced in the United States.

Other types of rayon have been developed for specialized end uses. These include disposable, non-woven markets, and high-absorption rayon fibers with moisture-holding properties for disposable diapers, hygiene and incontinence pads, as well as medical supplies.

Microfibers are not a type of rayon, but rather a very fine fiber that can be manufactured from either regular or HWM rayon. Microfibers are generally less than one denier in diameter. Rayon microfibers have been successfully produced at 0.9 denier. Fabrics from microfibers are very drapable and silk-like in hand and appearance.

Processability

Fiber Production

By using two different chemicals and manufacturing techniques, two basic types of rayon were developed - viscose rayon and cupramonium. Other processes for rayon include the polynosic (modal) process and the now obsolete nitrocellulose and saponified acetate processes. The nitrocellulose process is likely obsolete not only because the viscose and cupramonium processes are more effective, they are also safer; the nitrocellulose process results in a fiber with explosive properties.

As recently as 1992 there has been an entirely new process developed for producing regenerated cellulose fibers: the Lyocell process, developed by Courtaulds. While it is sufficiently different from rayon to almost be in a class by itself, the U.S. Federal Trade commission has formally amended the textile rules to add Lyocell as a subclass of rayon.

As viscose is the most common and recognized process for making rayon today, the process is outlined below. While the United States government considers fibers from all the above processes rayon, the International Organization for Standardization (ISO) prefers the name viscose for rayon (regenerated cellulose) obtained by the viscose process. The name viscose was derived from the word viscous, which describes the liquid state of the spinning solution.

Dissolution
The cellulosic raw materials for rayon are wood chips (usually from spruce or pine) or cotton linters. These are treated to produce sheets of purified cellulose containing 87-98% cellulose. They are then bleached with sodium hypochloride (NaOCl) to remove natural colour. These cellulose sheets are then soaked in 18% caustic soda for 1 to 2 hours producing sheets of alkali cellulose. Any excess alkali is pressed out. The substance is broken up into flakes or grains called cellulose crumbs, which are aged for two or three days under controlled temperature and humidity. Liquid carbon disulfide is added to the crumbs to change the cellulose into cellulose xanthate, a light orange substance that is still in crumb form. These crumbs are dissolved in a weak solution of caustic soda and transformed into a viscous solution called "viscose", honey-like in colour and consistency.

Extrusion
To produce the rayon filament, the viscose solution is aged, filtered, then vacuum-treated to remove any air bubbles that could weaken the filament and cause it to break. It is then pumped through spinnerets into a bath of sulfuric acid, which coagulates the cellulose xanthate to form regenerated filaments of 100% cellulose. The many variations and different properties of viscose such as luster, strength, softness and affinity for dyes, are influenced here by varying the technique and by the addition of external materials.

Purification
Once extruded, the freshly formed viscose must be purified and strengthened. It is thoroughly washed, treated with a dilute solution of sodium sulfide to remove any sulfur impurities. It may be bleached to remove a slight yellowness and to secure even white colour, and then given a final washing.

Fiber Structure

The structure of the rayon fiber is generally that of smooth, inelastic filaments like glass rods. However, different processes, additives and finishing techniques can vary the physical appearance and structure of the fiber.

Fiber Identification

In the burning test, rayon most resembles cotton. It ignites rapidly, sometimes even faster than cotton, burning with a large, bright, yellow flame. Burnt rayon leaves an odor like burnt paper, similar to cotton. The ash is also like cotton: light and feathery gray, which disintegrates rapidly.

In the feeling test, rayon is more difficult to identify. The variety of processes, modifications of technique and various treatments can make rayon look and feel like silk, cotton, wool or linen. In general, however, rayon has the smooth feeling of silk.
It is slippery because of the smoothness of the filaments, and has an almost brittle-feeling quality due to the fiber's inelasticity.

The breaking test can differentiate between rayon, cotton and linen yarns. Because of its inelasticity, rayon will tend to break shortly, with a short, uneven breaking pattern. It is even easier to distinguish when wet, as it breaks very easily then.

Care of Rayon

The critical element in successful care of rayon is the type of fiber.

Regular or viscose rayon usually require dry cleaning for best results

high wet modulus, high wet strength or polynosic rayons, will normally machine wash and tumble dry satisfactorily.

The low wet strength of untreated viscose rayon is likely to cause shrinkage and loss of body if fabrics made from these fibers are hand or machine washed. Viscose rayon are usually labeled "dry clean only." Check and follow garment labels for care and instructions. Consumers who do not follow care instructions will have no recourse to manufacturers should damage occur during laundering.

Since many dyes and finishes applied to viscose rayon are moisture-sensitive, consumers should protect garments from contact with moisture. Raincoats should be worn on stormy days. Also, care should be used when washing hands or working in the kitchen to avoid splashing water. The problem with sizing or dye migration increases the longer the area remains damp. Spills or moisture should be blotted with absorbent cloth to remove moisture. Avoid spilling acid or alkali, such as foodstuffs or perfume, as certain dyes used on rayon are especially sensitive to these substances. Use caution or avoid treating stained areas with water. Take the garment to a dry cleaner for stain removal. Rings or darker shading caused by sizing migration and lighter areas resulting from dye migration may be permanent.

When viscose rayon can be hand washed, do so with care. Always support wet fabrics, since rayon has low wet strength and is unstable when wet. Avoid wringing moisture from fabrics. Gently squeeze out moisture and roll in a towel. Smooth and shape, then lay flat to dry. If the garments are not too heavy when wet, they can be hung on a non-rusting hanger.

When pressing regular rayon garments at home, guard against spitting by steam irons that may cause water spots. Also, if possible, press on the wrong side or use a press cloth on the right side to avoid shine or iron imprints. Use a rayon or synthetic setting on the iron. When pressing blends, use the iron temperature for the most heat-sensitive fiber. Normally, a synthetic setting will be satisfactory.

High wet modulus or polynosic rayons can usually be machine washed or dried without special care. Blends, dark colors, and permanent press fabrics should be washed on a gentle cycle with warm water; however, 100 percent high wet modulus rayons are normally not damaged by hot water temperatures (more than 140°F). Tumble dry on a warm setting and remove immediately, or while slightly damp. Smooth and hang to reduce wrinkling. Polynosic rayons can be line dried; however, heavy items should be supported by clotheslines to avoid stretching or loss of shape.

Background information

Summary

Rayon is probably the most misunderstood of all fibers. It is not a natural fiber, yet it is not synthetic. It is a fiber formed by regenerating natural materials into a usable form.

Rayon fibers and fabrics made from them have many desirable properties. However, consumers sometimes expect performance characteristics beyond those for which rayon fibers were designed. Although rayon can look like wool, silk, cotton, or linen and is a manufactured fiber like polyester, this does not mean it behaves like or has the same properties or care requirements of these fibers. Rayon is a fiber on its own. Consider each garment made from rayon individually when determining use and care practices.

And, always read and follow care labels for best performance.

Our supplier partner

Newstartex for viscose rayon filament VFY in rawwhite and spundyed
For yarn dyed qualities please click on below picture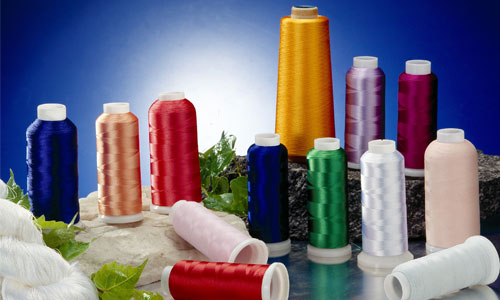 Background
For centuries humankind has relied upon various plants and animals to provide the raw materials for fabrics and clothing. Silkworms, sheep, beaver, buffalo deer, and even palm leaves are just some of the natural resources that have been used to meet these needs. However, in the last century scientists have turned to chemistry and technology to create and enhance many of the fabrics we now take for granted.
There are two main categories of man-made fibers: those that are made from natural products (cellulosic fibers) and those that are synthesized solely from chemical compounds (noncellulosic polymer fibers). Rayon is a natural-based material that is made from the cellulose of wood pulp or cotton. This natural base gives it many of the characteristics—low cost, diversity, and comfort—that have led to its popularity and success. Today, rayon is considered to be one of the most versatile and economical man-made fibers available. It has been called "the laboratory's first gift to the loom."
In the 1860s the French silk industry was being threatened by a disease affecting the silkworm. Louis Pasteur and Count Hilaire de Chardonnet were studying this problem with the hope of saving this vital industry. During this crisis, Chardonnet became interested in finding a way to produce artificial silk. In 1885 he patented the first successful process to make a useable fiber from cellulose. Even though other scientists have subsequently developed more cost-effective ways of making artificial silk, Chardonnet is still considered to be the father of rayon.
For the next forty years this material was called artificial or imitation silk. By 1925 it had developed into an industry unto itself and was given the name rayon by the Federal Trade Commission (FTC). The term rayon at this time included any man-made fiber made from cellulose. In 1952, however, the FTC divided rayons into two categories: those fibers consisting of pure cellulose (rayon) and those consisting of a cellulose compound (acetate).
By the 1950s, most of the rayon produced was being used in industrial and home furnishing products rather than in apparel, because regular rayon (also called viscose rayon) fibers were too weak compared to other fibers to be used in apparel. Then, in 1955, manufacturers began to produce a new type of rayon—high-wet-modulus (HWM) rayon—which was somewhat stronger and which could be used successfully in sheets, towels, and apparel. The advent of HWM rayon (also called modified rayon) is considered the most important development in rayon production since its invention in the 1880s.
Today rayon is one of the most widely used fabrics in our society. It is made in countries around the world. It can be blended with natural or man-made fabrics, treated with enhancements, and even engineered to perform a variety of functions.
Raw Materials
Regardless of the design or manufacturing process, the basic raw material for making rayon is cellulose. The major sources for natural cellulose are wood pulp—usually from pine, spruce, or hemlock trees—and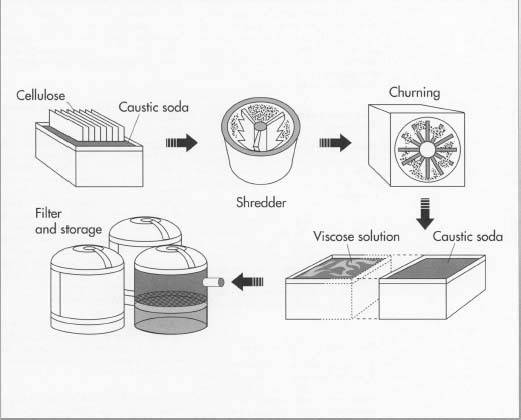 To make rayon, sheets of purified cellulose are steeped in caustic soda, dried, shredded into crumbs, and then aged in metal containers for 2 to 3 days. The temperature and humidity in the metal containers are carefully controlled.
After ageing, the crumbs are combined and churned with liquid carbon disulfide, which turns the mix into orange-colored crumbs known as sodium cellulose xanthate. The cellulose xanthate is bathed in caustic soda, resulting in a viscose solution that looks and feels much like honey.
cotton linters. Cotton linters are residue fibers which cling to cotton seed after the ginning process.
Strictly defined, rayon is a manufactured fiber composed of regenerated cellulose. The legal definition also includes manufactured fibers in which substitutes have not replaced more than 15 percent of the hydrogens.
While the basic manufacturing process for all rayon is similar, this fabric can be engineered to perform a wide range of functions. Various factors in the manufacturing process can be altered to produce an array of designs. Differences in the raw material, the processing chemicals, fiber diameter, post treatments and blend ratios can be manipulated to produce a fiber that is customized for a specific application.
Regular or viscose rayon is the most prevalent, versatile and successful type of rayon. It can be blended with man-made or natural fibers and made into fabrics of varying weight and texture. It is also highly absorbent, economical and comfortable to wear.
Regular viscose rayon does have some disadvantages. It's not as strong as many of the newer fabrics, nor is it as strong as natural cotton or flax. This inherent weakness is exacerbated when it becomes wet or overexposed to light. Also, regular rayon has a tendency to shrink when washed. Mildew, acid and high temperatures such as ironing can also result in damage. Fortunately, these disadvantages can be countered by chemical treatments and the blending of rayon with other fibers of offsetting characteristics.
High-wet-modulus rayon is a stronger fiber than regular rayon, and in fact is more similar in performance to cotton than to regular rayon. It has better elastic recovery than regular rayon, and fabrics containing it are easier to care for—they can be machine-washed, whereas fabrics containing regular rayon generally have to be dry-cleaned.
The Manufacturing
Process
While there are many variations in the manufacturing process that exploit the versatility of the fiber, the following is a description of the procedure that is used in making regular or viscose rayon.
Regardless of whether wood pulp or cotton linters are used, the basic raw material for making rayon must be processed in order to extract and purify the cellulose. The resulting sheets of white, purified cellulose are then treated to form regenerated cellulose filaments. In turn, these filaments are spun into yarns and eventually made into the desired fabric.
Processing purified cellulose
1 Sheets of purified cellulose are steeped in sodium hydroxide (caustic soda), which produces sheets of alkali cellulose. These sheets are dried, shredded into crumbs, and then aged in metal containers for 2 to 3 days. The temperature and humidity in the metal containers are carefully controlled.

2 After ageing, the crumbs are combined and churned with liquid carbon disulfide, which turns the mix into orange-colored crumbs known as sodium cellulose xanthate. The cellulose xanthate is bathed in caustic soda, resulting in a viscose solution that looks and feels much like honey. Any dyes or delusterants in the design are then added. The syrupy solution is filtered for impurities and stored in vats to age, this time between 4 and 5 days.
Producing filaments
3 The viscose solution is next turned into strings of fibers. This is done by forcing the liquid through a spinneret, which works like a shower-head, into an acid bath. If staple fiber is to be produced, a large spinneret with large holes is used. If filament fiber is being produced, then a spinneret with smaller holes is used. In the acid bath, the acid coagulates and solidifies the filaments, now known as regenerated cellulose filaments.
Spinning
4 After being bathed in acid, the filaments are ready to be spun into yarn. Depending on the type of yarn desired, several spinning methods can be used, including Pot Spinning, Spool Spinning, and Continuous Spinning. In Pot Spinning, the filaments are first stretched under controlled tension onto a series of offsetting rollers called godet wheels. This stretching reduces the diameter of the filaments and makes them more uniform in size, and it also gives the filaments more strength. The filaments are then put into a rapidly spinning cylinder called a Topham Box, resulting in a cake-like strings that stick to the sides of the Topham Box. The strings are then washed, bleached, rinsed, dried, and wound on cones or spools.

Spool Spinning is very similar to Pot Spinning. The filaments are passed through rollers and wound on spools, where they are washed, bleached, rinsed, dried, and wound again on spools or cones.

In Continuous Spinning, the filaments are washed, bleached, dried, twisted, and wound at the same time that they are stretched over godet wheels.

5 Once the fibers are sufficiently cured, they are ready for post-treatment chemicals and the various weaving processes necessary to produce the fabric. The resulting fabric can then be given any of a number of finishing treatments. These include calendaring, to control smoothness; fire resistance; pre-shrinking; water resistance; and wrinkle resistance.
High-Wet-Modulus Rayon
Manufacture
The process for manufacturing high-wet-modulus rayon is similar to that used for making regular rayon, with a few exceptions. First, in step #1 above, when the purified cellulose sheets are bathed in a caustic soda solution,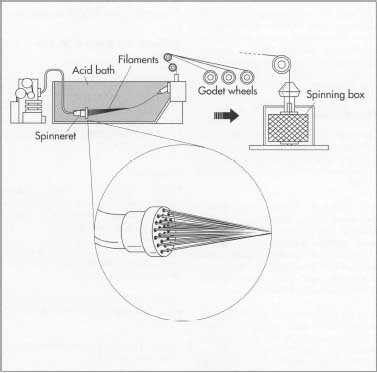 After the syrupy viscose solution is prepared, it is forced through a spinneret into an acid bath. The resulting strings or filaments are then stretched on godet wheels to strengthen them and put into a spinning Topham box. This method produces cake-like strings of rayon, which are washed, rinsed, and dried before being wound on spools or cones.
a weaker caustic soda is used when making HWM rayon. Second, neither the alkali crumbs (#1 above) nor the viscose solution (step #2) is aged in the HWM process. Third, when making HWM rayon, the filaments are stretched to a greater degree than when making regular rayon.
Quality Control
As with most chemically oriented processes, quality control is crucial to the successful manufacture of rayon. Chemical make-up, timing and temperature are essential factors that must be monitored and controlled in order to produce the desired result.
The percentages of the various fibers used in a blended fabric must be controlled to stay within in the legal bounds of the Textile Fiber Identification Act. This act legally defines seventeen groups of man-made fibers. Six of these seventeen groups are made from natural material. They include rayon, acetate, glass fiber, metallics, rubber, and azion. The remaining eleven fabrics are synthesized solely from chemical compounds. They are nylon, polyester, acrylic, modacrylic, olefin, spandex, anidex, saran, vinal, vinyon, and nytril.
Within each generic group there are brand names for fibers which are produced by different manufacturers. Private companies often seek patents on unique features and, as could be expected, attempt to maintain legal control over their competition.
Byproducts
As one of the industry's major problems, the chemical by-products of rayon have received much attention in these environmentally conscious times. The most popular method of production, the viscose method, generates undesirable water and air emissions. Of particular concern is the emission of zinc and hydrogen sulfide.
At present, producers are trying a number of techniques to reduce pollution. Some of the techniques being used are the recovery of zinc by ion-exchange, crystallization, and the use of a more purified cellulose. Also, the use of absorption and chemical scrubbing is proving to be helpful in reducing undesirable emissions of gas.
The Future

The future of rayon is bright. Not only is there a growing demand for rayon worldwide, but there are many new technologies that promise to make rayon even better and cheaper.

For a while in the 1970s there was a trend in the clothing industry toward purely synthetic materials like polyester. However, since purely synthetic material does not "breath" like natural material, these products were not well received by the consumer. Today there is a strong trend toward blended fabrics. Blends offer the best of both worlds.

With the present body of knowledge about the structure and chemical reactivity of cellulose, some scientist believe it may soon be possible to produce the cellulose molecule directly from sunlight, water and carbon dioxide. If this technique proves to be cost effective, such hydroponic factories could represent a giant step forward in the quest to provide the raw materials necessary to meet the world wide demand for man-made fabric.


Источник: http://www.swicofil.com/viscose.html

Rayon Scarves and Sashes - Dharma What to wear in hong kong in early december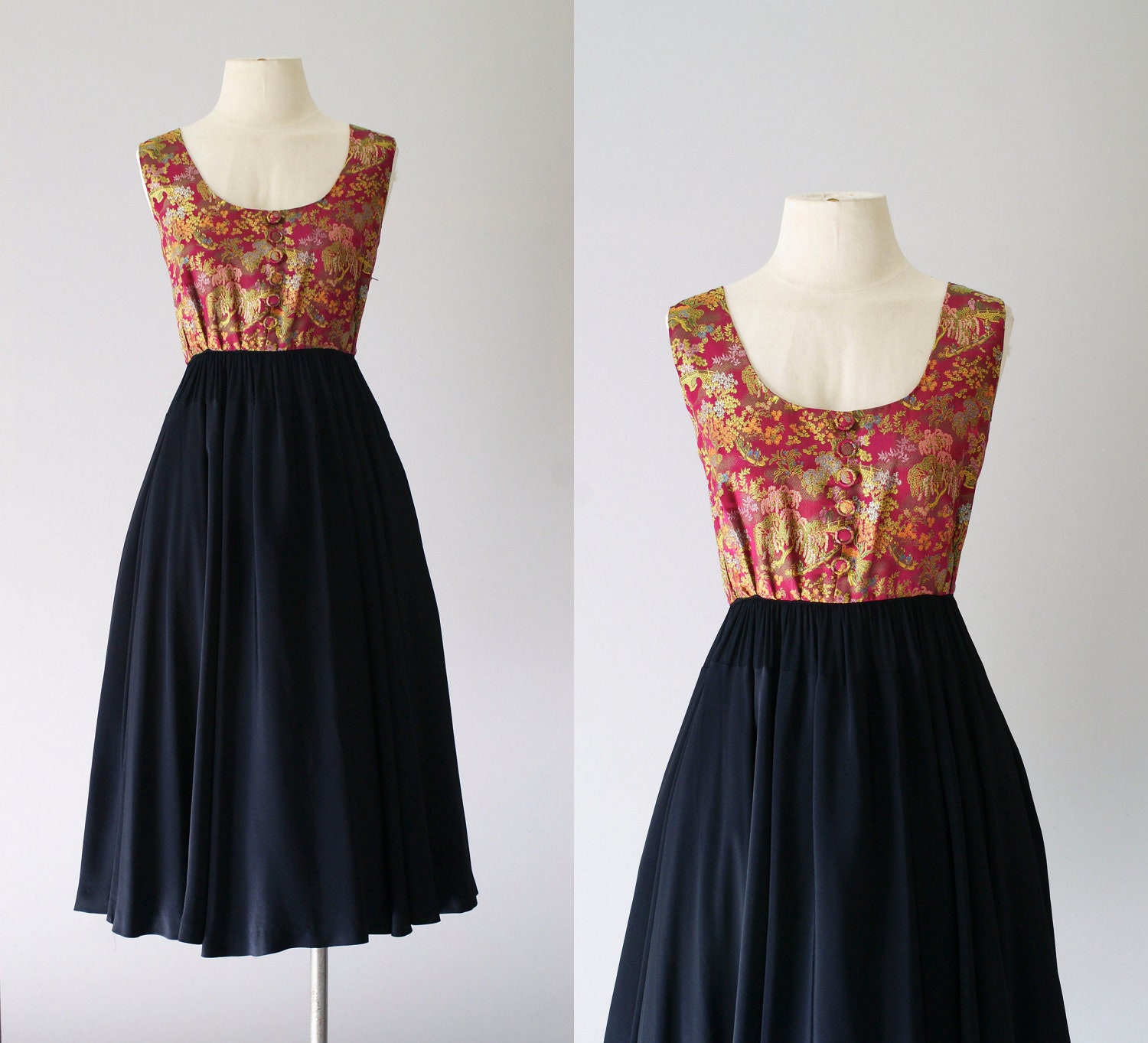 Washing Rayon Clothing - Dharma
How rayon is made - material
Viscose rayon - Swicofil AG
Bombay Rayon Fashions, Ltd
11 best images about SEWING - The Thrifty Kid - Blog Series on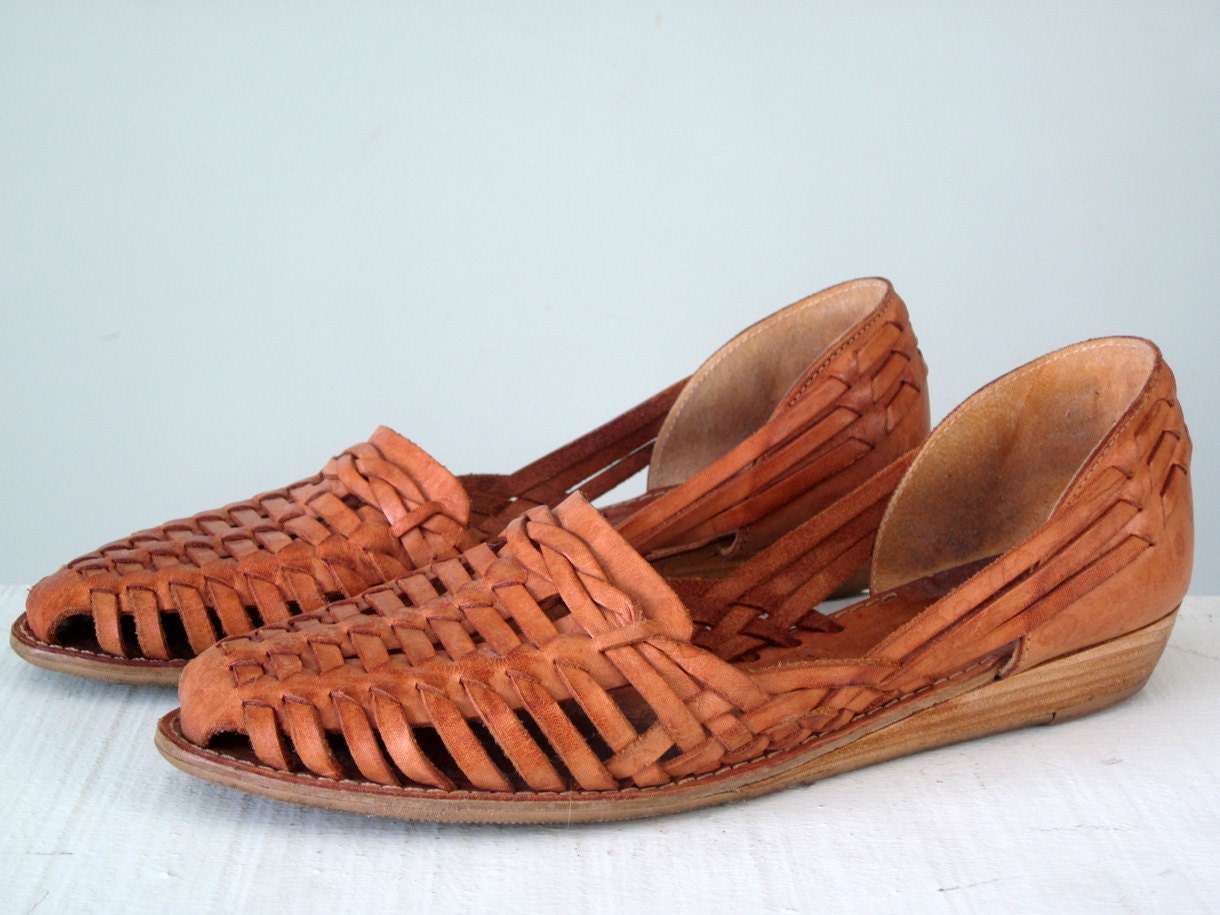 25 лучших идей на тему «Нита Лулла в Pinterest» Наряды на индийскую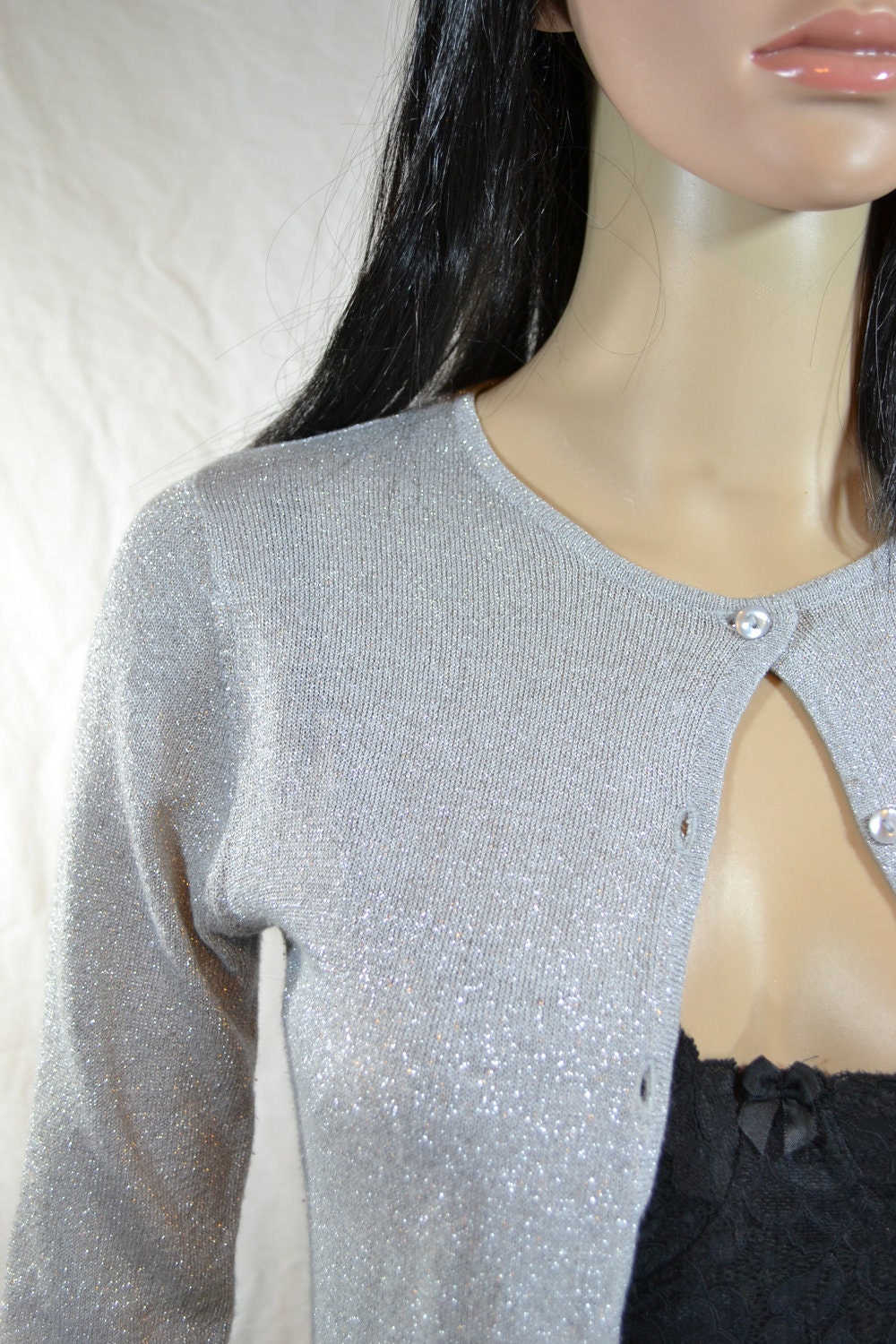 Armani Junior, designer clothes for kids, Spring Summer 2017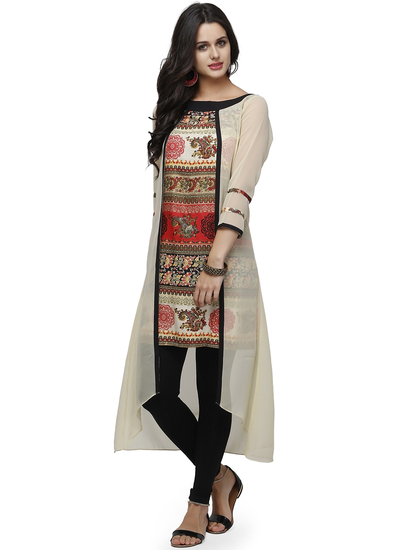 Boss Day Clip Art & Boss Day Clip Art Clip Art Images - ClipartALL
Boss's Day Ecards, Free Boss's Day Cards, Funny Boss's Day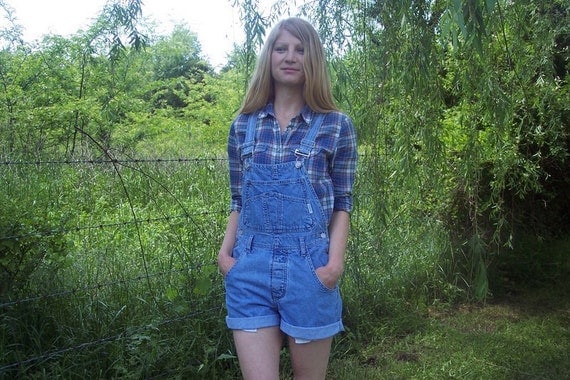 Cupl Spring/Summer 2013 Collection Fashionisers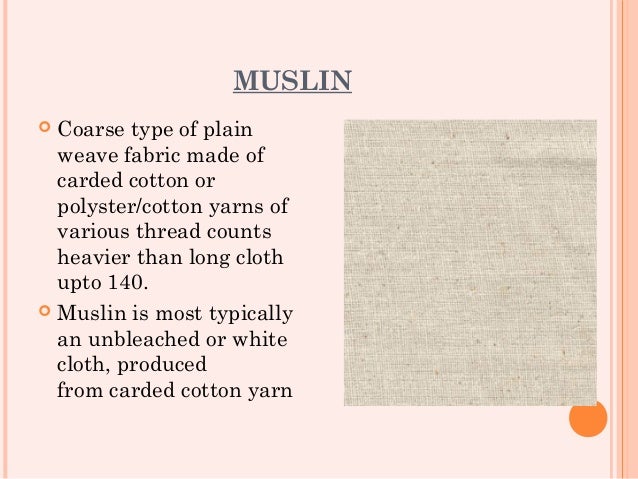 Drew Barrymore's Engagement Ring: Get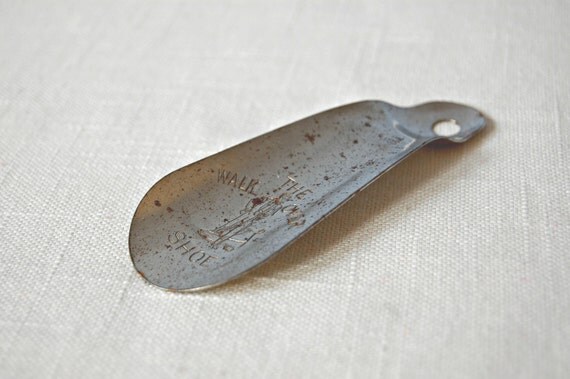 Gabriela lookbook spring summer 2017 - Cupl